Ralph Gentile—Owner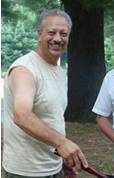 Ralph's story is the closest you're going to get to that old TV series "Green Acres" where Eddie Albert and Zsa Zsa Gabor move from Manhattan to a farm. A down town Toronto stock-trader, city slicker Ralph decided he wanted a quieter place in which to raise a family.
In 1975 he bought a small farm south of Napanee and moved his family with him. Since that time he has owned numerous businesses, started the Music By the River annual festival where Avril Lavigne once appeared, was President of the local Optimists Club, was instrumental in the Napanee Pavilion being built, as well as numerous other festivals and events. In 2006 Ralph was declared "Greater Napanee Citizen of the Year."
Always friendly and willing to help, being a campground owner is a perfect role for Ralph, where he strives to ensure all visitors have a fun, enjoyable, and relaxing experience. Ralph can normally be found puttering around at the campground on weekends.